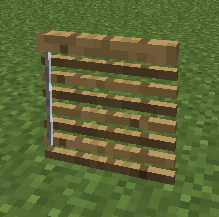 The blind is a window decoration (see Curtain for alternative). It can be opened and closed by right clicking on the blind. When a blind is closed, it will block out light that might be coming in through the window.
Their texture is oak wood planks for the bars and white wool for the string. It is sampled from the current texture pack, meaning they are supported by any texture pack.
Crafting Recipe
Edit
Fill the whole thing with sticks.