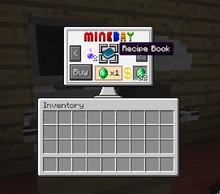 The Computer was added in the electronic update (See also TV, Stereo and Printer).
Computer acts like a mobile villager, being able to trade & buy items from the computer GUI.
Becomes very useful when in need of certain items which are hard to find. It does this on a program called MineBay.
It's also the only way to acquire the Recipe Book in Survival Mode without using cheats.
Crafting Recipe
Edit
The Computer is crafted using 7 Block of Iron, 1 Glass Pane and 1 Redstone. :D
-mr.crayfish