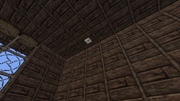 The Fire Alarm was added with the electronic update (See also TV, Stereo and Computer).
Fire Alarms are attached to the ceiling and can detect nearby fires. When a fire is present they beep, light up and emit a redstone signal. To reset the Fire Alarm right click it. The Fire Alarm detects fire in a 9x9 radius while 3 blocks off the floor, you can break it with a pickaxe.
Crafting Recipe
Edit
You can craft a Fire Alarm using 4 Iron Ingot, 1 Redstone and 1 Note Block.
Ad blocker interference detected!
Wikia is a free-to-use site that makes money from advertising. We have a modified experience for viewers using ad blockers

Wikia is not accessible if you've made further modifications. Remove the custom ad blocker rule(s) and the page will load as expected.