The modern TV is a piece of furniture added in the Modern Update. The TV system was revamped with the modern TV. Instead of old channels, you can now load and watch GIFs.
Crafting recipe
Edit
To craft the modern TV, you need five iron ingots, three glass panes and one redstone powder. Place three iron ingots in the top row and one in the bottom right and bottom left, the glass panes in the middle row and the redstone dust in the bottom middle.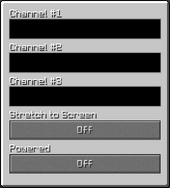 The modern TV (and the TV) allows you to load a GIF from the Internet. To do that, you juste have to copy and paste a GIF URL.
To work, the GIF has to match these requirements :
The GIF must be under 2 MB,
The URL must be a GIF. Make sure the URL you copied is a GIF one.
You can find a list of working URLs HERE.