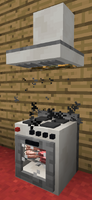 Oven Rangehood is a decorative block used for further decoration above the oven.
For now the oven Rangehood is used an an aesthetic feature but in the future might possibly have a function.
Crafting Recipe
Edit
The Oven Rangehood requires 4 Iron Ingots and 1 Glowstone to make. Place iron ingots on the top middle, exact middle, bottom left, and bottom right. Then place a glowstone on the bottom middle.