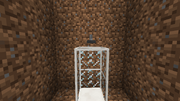 The Shower was added as part of The Bathroom Update (See also Toilet, Basin and Bin).
It is a two-block-high structure, like the Fridge, which you can walk into.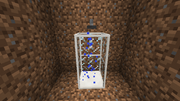 When placed below a Shower Head, right clicking on the top half of the Shower will cause the Shower to turn on. Right clicking again will turn it off.
The textures used are Quartz for the floor and edges, and Glass Pane for the walls.
Crafting Recipe
Edit
To craft the Shower you need 6 Block of Quartz placed on the sides and 3 Glass Block down the middle.
Ad blocker interference detected!
Wikia is a free-to-use site that makes money from advertising. We have a modified experience for viewers using ad blockers

Wikia is not accessible if you've made further modifications. Remove the custom ad blocker rule(s) and the page will load as expected.