The TV is an electronic which was added in The Electronic Update. As well as that the TV doesn't work in the new 1.11.2. The older versions have 3 channels which can be changed by right clicking. The channels are GIFS of He Man, Nyan Cat, (distorted) and a PAL pattern test. Right clicking after the PAL pattern turns the TV off.
The latest versions feature the HEYYEEAAYYEAAEYEAYEA viral video on YouTube, Villager News, Cooking with the Cray, a comedic version of a reality show, part of SethBling's BiteSized Minecraft video and rarely the PAL pattern test.
==Crafting Recipe==crafting table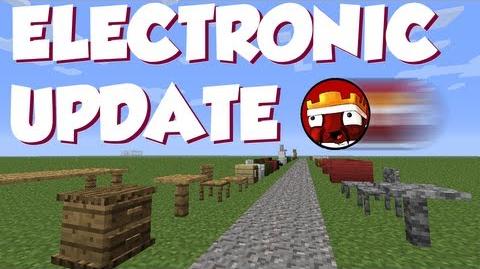 hi
Unknown . . . .
Ad blocker interference detected!
Wikia is a free-to-use site that makes money from advertising. We have a modified experience for viewers using ad blockers

Wikia is not accessible if you've made further modifications. Remove the custom ad blocker rule(s) and the page will load as expected.