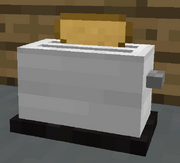 The Toaster was added as part of The Kitchen Update (See also Dishwasher, Microwave and Kitchen Counter).
The toaster is used to toast sliced bread, which can be obtained from cutting up bread on a Chopping Board. It's not just limited to bread, you can also use the RecipeAPI to add in custom recipes for the Toaster.
InsertingEdit
To insert the Bread Slice into the toaster, simply right click the Toaster with the Bread Slice in your hand.
To start toasting the Bread Slice, make sure you are crouching and simply right click the Toaster and the Bread Slice will go down into the Toaster. Once the Toaster has completed toasting the Bread Slice, it will pop out automatically.
To remove the Bread Slice from the toaster, shift + right click the Toaster with an empty hand or any item that isn't a Bread Slice. Note: This only applies if you have not cooked the Bread Slice, if so, it will remove itself once it has completed toasting.
Crafting Recipe
Edit
The toaster can be crafted with 3 quartz blocks, 1 (smooth) stone, 3 blocks of black wool, a piston, and 1 iron bar.
in older versions you could replace quartz blocks with chiseled quartz block or pillar quartz block, and stone with any type of granite, diorite or andensite.