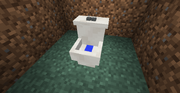 The Toilet was added as part of
The Bathroom Update
(See also
Shower
,
Basin
and
Bin
).
The Toilet is a block you can sit on by clicking the right mouse key and when the "F" key is pressed, will make one of three farting noises. Also, when any items and/or blocks are placed on the Toilet, you can shift and right click it to flush items down the drain, which causes a flushing sound to commence.
The textures are Water, Quartz and Cyan Stained Clay.
Crafting Recipe
Edit
The Toilet is crafted using 5 Block of Quartz and one (Smooth Stone) Button.