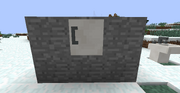 The Wall Cabinet is part of The Bathroom Update (See also Toilet , Basin and Bin).
The wall cabinet must be placed on a blocks side. It has 9 slots which can store potions and water bottles.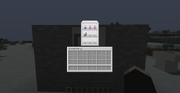 The textures used are Block of Quartz and the handle is Cyan Terracotta.</p>
Crafting Recipe
Edit
The Wall Cabinet requires 8 Block of Quartz surrounding a chest to be crafted.